Services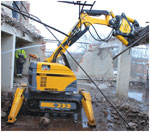 Controlled Demolition
We use all aspects of our plant and equipment for controlled demolition. We provide a prompt and efficient service with proven ability to adapt and diversify our plant and equipment to meet customer requirements. Using modern equipment along with experienced manpower, we provide an environmental, friendly approach to all demolition projects. Our equipment includes remote controlled Brokks with breaking hammer and crunching jaws. These machines are ideally suited to working inside buildings where structural demolition is required.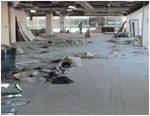 Soft Demolition
We specialize in interior strip-outs of residential, industrial and commercial projects. We make every effort to maximize the amount of recyclable materials salvaged from each project as per the clients requirements.

Core Drilling
We can core drill from 14mm up to 600mm diameter with depths up to 7 meters.


Wall Sawing
Using our powerful hydraulic or high frequency track mounted wall saws we can cut upto depths of 700mm deep from one side.


Wire Sawing
We use wire sawing for cutting large areas of concrete where heavy reinforcement is located and area is difficult to access. This method can be adapted to deal with various materials and cuts.


Floor and Road Sawing
Using our electric/diesel floor saw machines we can cut reinforced concrete floors or roads upto a depth of 350mm, using water to cool blades and suppress dust.